NEW! 8 Inch Super Yummee Flying Fish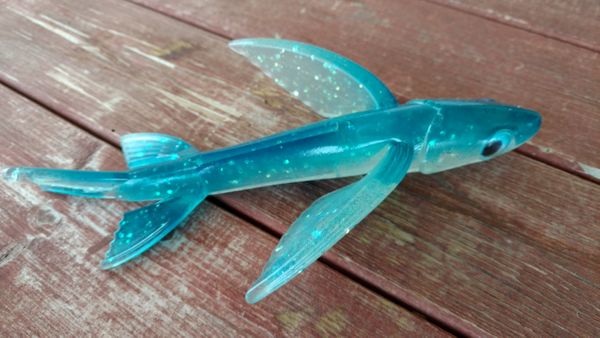 NEW! 8 Inch Super Yummee Flying Fish
8 Inch

Super

Yummee Flying Fish! This One Piece Yummee catches Tuna and Dolphin. This realistic Flying Fish Lure design has innovative front and back wings to give the lure exceptional action, splash and flight characteristics. Lure is great for casting, traditional trolling and fishing under a kite. As an exceptional teaser lure, it can be rigged in chains or on spreader bars. This lure features a soft plastic body molded in one piece with multiple hook slots, realistic lens eyes and a highly active tail. As with ALL of our Flying Fish Lures, this one is also 

Made

in the
USA
! Lure is available Unrigged or Rigged on 200# Mono with many hook options:
For normal fishing situations, we recommend the regular rig with a single 9/0 J-hook.
For the largest Tuna we recommend the Cow Rig with heavy duty welded eye J-hook and heavy duty treble stinger hook, and/or a single heavy J-Hook.
For Kite fishing the East Coast for school Tuna we recommend Florida Keys style which features a regular 9/0 J-Hook and a treble hook stinger. For size comparison see picture three above which shows the 8 inch lure next to the Original Yummee 9 inch.

Fishing Tips: 
1. For regular trolling or casting this model gives the best all around performance. 
2. On light wind days when its hard to fly a kite use this model which is lighter than the original 9 inch model. If you still can't get your kite to fly the lure, use our 7 inch Flying Fish. 
3. This lure is a terrific lure to use on spreader bars and daisy chains.
WARNING: This product is not intended for use by children under 14 years of age.