Yummee Delta Wing 7 Inch Flying Fish-Fishing Lure! MADE IN USA!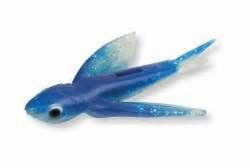 Yummee Delta Wing 7 Inch Flying Fish-Fishing Lure! MADE IN USA!
The Yummee Delta Wing Flying Fish 7 Inch Fishing Lure is a premier lure for Tuna, Dolphin and other blue water game fish. The Yummee Delta Wing Flying Fish has a smooth surface skimming action which enables you to rig it many different ways- as a hooked trolling lure, a daisy chain or spreader bar or rigged with a swivel in the tail for use as an inline bird. Any of these rigging options will likely cause strikes from BIG fish!
This flying fish features internal hook slots which allow for traditional rigging and can also be rigged weedless with the hooks facing up for fishing around weed lines. This makes it an excellent Dolphin (Mahi-Mahi) lure. This is one of our best flying fish for rigging in daisy chain teasers for Sailfish and Marlin because of its super smooth splashing action. The Yummees durable yet soft plastic gives these fish a natural yummy feel & taste so they hang on to the lure longer. 


Proudly Made in the USA!
WARNING:  This product is not intended for use by children under 14 years of age.

RIGGING OPTIONS:
1) New! 7 Inch Yummee Bird rigged 'Florida Keys Style.' This rig features a single hook in the belly and a Mustad 3x treble as a long trailing stinger.  $18.99 1 pack
2) New! 7 Inch Yummee Bird rigged weedless with the hook facing up. This bait will skip and fly right over the toughest weedlines drawing strikes from predators like Dolphin and Tuna. Works best over weed lines with a kite $19.99 1 pack
NEW COW RIG WITH HEAVY DUTY J AND TREBLE HOOK FOR HUGE TUNA!  $29.99 1 pack SEE PHOTO
Fishing Tips:  
1. Use this lure under a kite to simulate a real flying fish. This gives you several advantages including- deploying the lure off your boats beam so as not to spook boat shy fish. It gets the lure in the air like area flying fish. Tuna do not see lines, leaders and hooks when the lure is in the air so you can use heavier tackle. 
2.  Use this lure when you want to troll a lure directly from the rod tip or outrigger as it skims the waters surface very well
3. Use this lure in place of a traditional hard bird rigged ahead of your favorite lure.
Yummee Fly'n Fish are trademarks. Copyright 2001-2023