Yummee Delta Wing Flying Fish Inline Bird Fishing Lure Kits-MADE IN USA!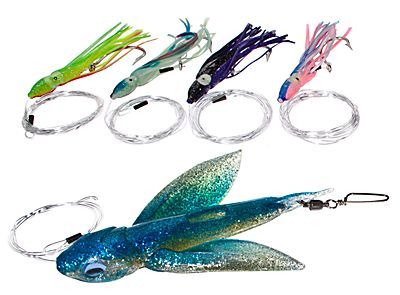 Yummee Delta Wing Flying Fish Inline Bird Fishing Lure Kits-MADE IN USA!
YUMMEE FLYING FISH DELTA WING INLINE BIRD LURE KITS
The Yummee Delta Wing Inline Bird Flying Fish Lure is lifelike in look and action and they draw the fishes attention as they skip across the surface like real flying fish-once the fish get near, they usually strike the easier to eat octopus style chase lure behind the Yummee Flying fish inline bird fishing lure. Unlike hard birds that scare off the fish if they strike the hard material, this Yummee inline bird rig is soft so fish come back to strike again and again. These Tuna fishing lure kits are also great Dolphin(Mahi-Mahi) fishing lures.
This 7 inch Delta Wing flying fish fishing lure is rigged on monofilament leader with a ball bearing snap swivel in the tail which allows you to easily rig it in front of your favorite fishing lure. Kits have pre-rigged octopus style chase fishing lures ready to fish. Simply clip your rod's snap swivel to the Yummee inline bird leader and snap the chase lure to the snap swivel in the inline birds' tail and you are ready to fish. It is that simple!
Each kit comes with a rigged 7 inch Delta Wing Flying Fish AND:
4 rigged 4.25 inch octopus chase lures 28.99. OR-
4 rigged 6 inch octopus chase lures 29.99.
Yummee Inline Birds are trademarks.  Copyright 2005-2019
Made in the USA!
WARNING:  This product is not intended for use by children under 14 years of age.