Carolina Witch-Original Patented MADE IN USA!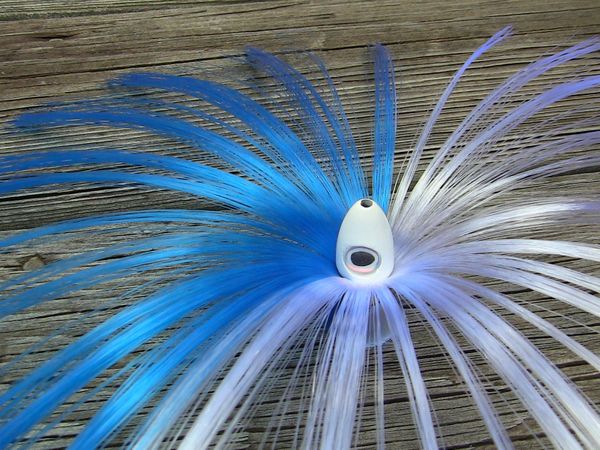 Carolina Witch-Original Patented MADE IN USA!
We invented and patented this lure with its streamlined alloy heads and just enough straight extruded hair to perfectly enhance the performance of your natural baits. Our patented Carolina Witch is a premiere fishing lure for Tuna, Dolphin, Wahoo, Sail Fish, King Mackerel, and even Striped Bass. This lure is a first choice, tournament winning, dredge lure and is terrific on umbrella rigs for striped bass.
NEW!  You can add Mylar flash to your lure via our pull down menu when you order online.    
NEW! Our  1/2 ounce, 1 ounce and 2 ounce sizes feature painted heads with holographic lens eyes and are tied with stainless wire for maximum durability. No other sizes have holographic eyes. This is the original Patented Design MADE IN THE USA! US Patent #377874b
Making A Carolina Witch Swimming Ballyhoo Rig-Video Click Here

How to Make a "Wahoo Proof" Monofilament Carolina Witch Swimming Ballyhoo Rig:
Fishing Tips:  Always have some of these lures in your spread when trolling with Ballyhoo because they are perfect bait enhancers. Use Carolina Witches on your dredges and as Billfish teasers.
If you fish for Rock Fish(Striped Bass) using parachute rigs, make sure you have one rigged up with these witches. When you are through fishing for the day, wash these lures in fresh water and hang them to dry so that the skirts are straight.