Circle Hook Weights-MADE IN USA!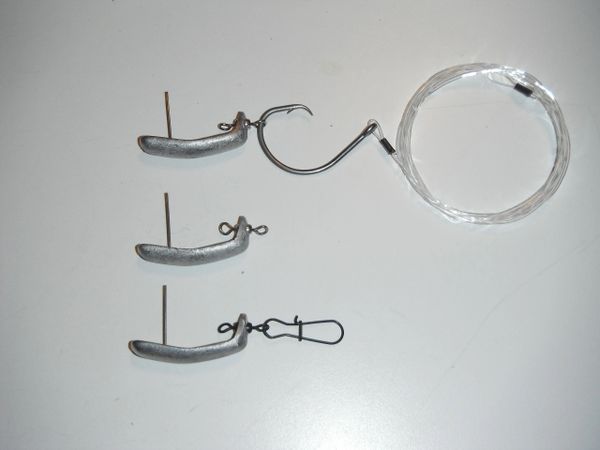 Circle Hook Weights-MADE IN USA!
 These unique lures enhance the swimming ability and appearance of natural baits such as Ballyhoo and Ribbonfish. There's nothing closer to the natural swimming action and ease of rigging than these weights. Baits swim level and with incredible lifelike action making them irresistible for game fish.  
Fishing Tips: Circle hooks are quickly becoming the hook of choice for fishermen across the world. Circle hooks and their circular point increase the odds of hooking a fish in the corner of the mouth by up to 90%. Due to their efficient design, many regulations require the use of circle hooks and most Billfish tournaments also require them. 

Don't settle for less when it comes to rigging your baits with circle hooks. Carolina Lures circle hook weights are specially designed to rig natural baits. We designed this weight to be shaped to fit natural baits like Ballyhoo and Goggle eyes/Cabalito. Use these on your Sailfish, Marlin, Tuna and Dolphin (Mahi-Mahi) rigs. The swivel on the front of the weight is sized to fit a circle hook. 
How to: Simply pin your bait to the weight, attach with a rubber band, insert hook into swivel and start fishing. For speed rigging dredges, use the snap swivel model.
Proudly Made In USA!