Deep Flash Jig With Worm-MADE IN USA!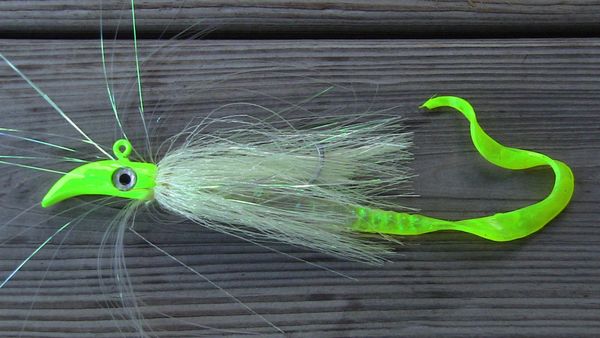 Deep Flash Jig With Worm-MADE IN USA!
Deep Flash Jigs are fantastic lures for catching Snook, Striped Bass, Tarpon, Cobia, Grouper, Snapper and even Lake Trout. In fact, we have found that these jigs catch practically everything that swims. Fish simply can't resist them. The combination of a pearl flash skirt and a swimming curl tail worm causes the fish to viciously strike these lures time and again. This hydro dynamic shaped jig head works like a small planer to quickly get the jig down deep into the strike zone. Because of this hydro dynamic advantage, you are able to use a lighter weight jig to reach greater depths. This jig is our favorite to catch all species of fish. It is by far the best selling jig we have ever produced. 
The 3 ounce jig has holographic lens eyes, a 9/0 hook and a glow in the dark skirt with a 10 inch curl tail worm. 
Our 1/8, 1/4, 1/2 and 1 ounce jigs are best for use on light tackle in both salt and fresh water. These sizes in fresh water catch small mouth bass, walleye, spotted bass, large crappie and more! Packed 1 Per Pack In Every Size 
How to: We all know fish like to hang around structure. This is a jig that will help you fish structure with less snags than an ordinary jig.
This l
ure works best with a retrieve that keeps the jig moving quickly. It is best to keep the jig bumping along the bottom which not only draws strikes, but because of our ingenious design, it bounces over obstacles better than any other jig. This is because our jig tends to flip tail over head rather than snagging on obstructions. 
Proudly Made in the USA!