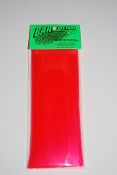 Lure Hair-MADE IN USA!
This is the perfect hair for making your own fishing lures. This is straight extruded hair, not dyed, so it keeps its full color longer. You can make your own lures for Tuna, Dolphin, Marlin, King Mackerel, Sailfish, Wahoo. Also great for making Cobia (Ling) jigs, Grouper jigs, Striped Bass (rockfish) lures and Snapper fishing lures. This hair is also used to tie lures for largemouth bass.
Available in 2 oz packs or in approximately one pound hanks. Hair hanks are available in 8 inch lengths. All packed hair is cut 7-7/8 inches long. Tie on our world famous Carolina Lures heads to make your very own professional grade trolling lures and save money!
Proudly Made in USA!