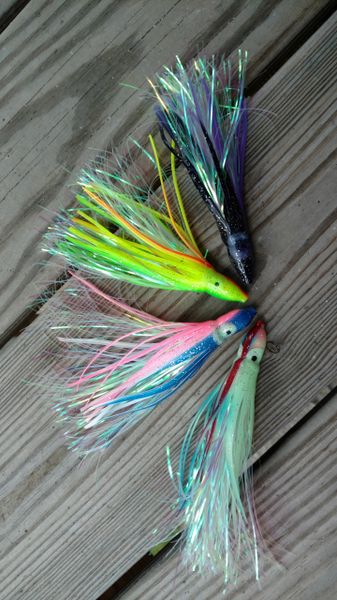 Octo Clones
Octo Clones are fantastic lures for Tuna, Dolphin, Wahoo, etc. They feature Octopus style skirts with internal heads and an inner flash skirt. They work well when fished with or without ballyhoo or strip baits and are also great rigged as daisy chains, spreader bars and or dredges. They come in 2 sizes-  4.5 inch 1/2 oz, and a 7 inch 1 oz. Available in 1 pack Unrigged, Regular Rigged for fishing without bait or as a Swimming Ballyhoo Rig. 
Fishing Tips: (1)  When small dolphin (Mahi Mahi) are around, choose the 4.5 inch Octo Clone and as an added enticement add a small strip bait and you should have non stop action on dolphin of all sizes. 
(2) These make great chase lures when rigged behind our Inline Flying Fish Bird.