Original Yummee Flying Fish Chain-MADE IN THE USA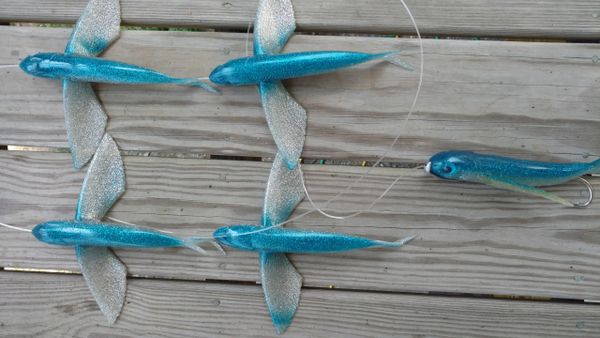 Original Yummee Flying Fish Chain-MADE IN THE USA
Original Yummee Flying Fish Chain: This is our top of the line Daisy Chain/Teaser. The unsurpassed performance of this Daisy Chain in blue water makes this a teaser worth its weight in gold! This is the ultimate surface commotion Daisy Chain that features the world's greatest flying fish imitator-the original 9 inch Yummee Fly'n Fish! This is a premium chain for attracting and catching Tuna, Dolphin(Mahi-Mahi), Sailfish and Marlin. With this chain, you get four of the Original 9-inch Yummees  which when pulled in your spread, will splash, jump and twist in the air like panicked flying fish drawing attention to the Swimming 9-inch Yummee chase lure. The Yummee Daisy Chain simulates a school of flying fish struggling to fly and leads to intense strikes from game fish.
Available either rigged with a hook in the chase lure or without a hook for use as a teaser.

Proudly Made in the USA!
WARNING:  This product is not intended for use by children under 14 years of age.

Yummee Fly'n Fish are trademarks. Copyright 2001-2023