Super Yummee Flying Fish Chain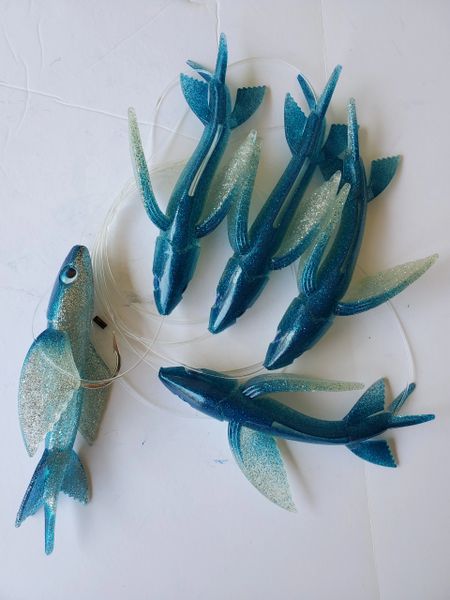 Super Yummee Flying Fish Chain
These 8 Inch Super Yummee Fly'n Fish Daisy Chains are a must have for any offshore angler. These are great for Tuna, Dolphin and all Billfish. The Super Yummee Daisy Chain features the 8 inch Super Yummee Fly'n Fish rigged inline to simulate a school of flying fish. This Super Yummee has four realistic wings that provide superb surface action which attracts large game fish. The single piece body is durable and pliable. Line bores are through the entire length of the body. These Daisy Chains are available with hooks in the last lure or hook-less to be used as teasers. They are also available rigged hook-less with a snap swivel to allow quick attachment of your favorite chase lure and leader. Chains are available in 3, 4 or 5 fish per chain. Hook options include regular 9175 9/0, J Hook or Heavy J Hook to handle the largest Gamefish. Rigged on 200# Mono.  
Made In The USA!
Fishing Tips:
1. Use the chains rigged with hooks when targeting Tuna and Large Dolphin/Mahi Mahi. You can pull both chains close to the boat or further back in the wake.
2. When fishing for Marlin and Sailfish use the hook-less teasers and make sure you have rigged baits trolling close to the teaser so the fish eat them as soon as they rise to the teaser. Another method is to have a rigged natural bait ready to cast to any Billfish that appears at the teaser. Always have smaller and larger baits ready to pitch at anytime. If a large Marlin shows up, pitch the larger bait on heavier tackle. If a small fish appears, pitch the smaller bait on lighter tackle. This is a very effective and sporting way to catch Billfish.

3. When kite fishing for Tuna with Yummees, keep these chains close to your boat which could help attract more fish for hookups.

4. WARNING:  This product is not intended for use by children under 14 years of age.