Yummee Flying Fish Carolina Smoking Jet Daisy Chain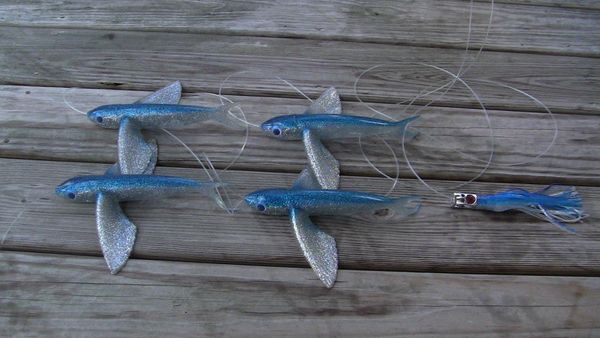 Yummee Flying Fish Carolina Smoking Jet Daisy Chain
Yummee Fly'n Fish Carolina Smoking Jet Daisy Chain is a top daisy chain for catching big fish as well as a fantastic teaser.
Our world famous Yummee Fly'n Fish are rigged to run on top of the waters surface while being chased by a Carolina Smoking Jet lure. This creates the perfect scenario for attracting huge fish. When predators see the flying fish being chased they are drawn in like a magnet.

This chain features four 9 inch Yummee Fly'n Fish being chased by a Carolina Smoking Jet with either a single hook rig or a swimming ballyhoo rig on 200# Monofilament.
This is also available as a hook less teaser ballyhoo rig. This daisy chain tears up the surface and attracts giant fish so be prepared by using heavy tackle. 
Proudly Made in the USA!
WARNING:  This product is not intended for use by children under 14 years of age.