Yummee Mini Flyer-4 inch Flying Fish-Fishing Lure-MADE IN USA!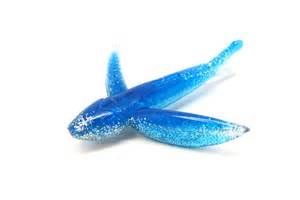 Yummee Mini Flyer-4 inch Flying Fish-Fishing Lure-MADE IN USA!
The Yummee Mini Flyer 4 Inch Flying fish is one of the most effective Dolphin (Mahi-Mahi) fishing lures ever made. This is a very versatile lure. Tie one on a spinning rod and cast and retrieve near weed lines for explosive top water action from Dolphin-Mahi Mahi!
It is also a top choice for Tuna fisherman across the oceans. Don't let the small size fool you. Our Mini Flyer catches Giant fish!

 It

is an excellent choice to rig in chains or on spreader bars. The small size makes it the perfect fishing lure to rig in front of other trolling lures creating the illusion of the chase lure pursuing our panicked flying fish lures. This is a rigging method that has won many tournaments. 
When big Tuna and Dolphin are focused on eating small bait, this is your fishing lure of choice!  Many professionals rig large numbers of these fishing lures into chains or spreader bars to simulate bait schools. Our Mini Yummees are the ultimate casting lure for Dolphin, Tuna and other surface feeding fish. Pull up to the weed line, cast, retrieve and hang on! The strikes are spectacular making this one of the most fun fishing lures you will ever cast.

Sold either in a 2 pack unrigged or-
1 pack rigged or-
Bulk unpacked 1 each
Proudly Made in USA!
WARNING:  This product is not intended for use by children under 14 years of age.

Yummee Fly'N Fish are Trademarks. Copyright