Sand Flea Fishing Lure-MADE IN USA!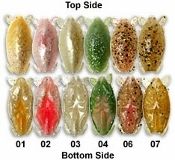 Sand Flea Fishing Lure-MADE IN USA!
These Sand Fleas are terrific for catching Pompano, Redfish, Flounder, Sea Trout, Whiting and other fish in the surf of the Atlantic and Pacific Oceans. These soft plastic Sand Flea Fishing lures are mirror images of natures perfect bait and come in lifelike colors. Available in two sizes original and small so you can match the size fleas most prevalent when and where you are fishing. These lures are made with our proprietary "no two alike" system so that each flea has slight color variations just like the real ones. 
Learn how to pair this flea with a jig for a deadly combo! Click to see the video!

Packed 8 Fleas per pack or 50 Pk 
Proudly  Made in USA!
 
Yummee Sand Fleas are a trademark. Copyright.